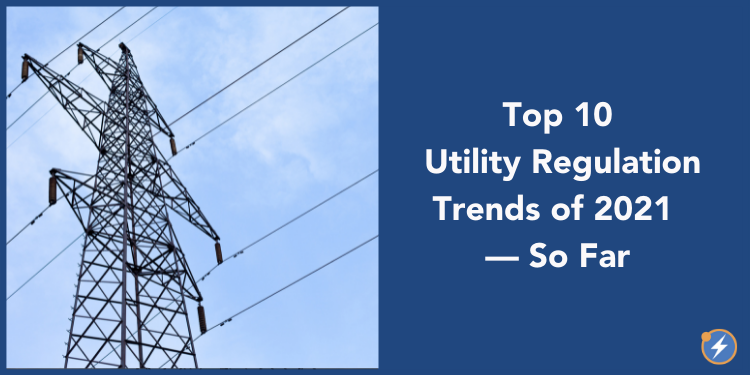 Although 2021 is only halfway through, state utility regulators and regional grid operators have had their hands full considering issues at the cutting edge of the energy transition. How can utilities develop resource plans that align with state policy goals? How do all those mobile batteries in the growing fleet of electric vehicles (EVs) get integrated with the grid? How can customers be helped to make smarter energy decisions? These questions and more are on the docket in 2021, and Advanced Energy Economy has been tracking how regulators are tackling these complex issues. Even just halfway in, the regulatory trends from across the country suggest that 2021 will be another transformational year for advanced energy.
Note: some links in this post reference PUC filings and other documents in AEE's software platform, PowerSuite. Click here and sign up for a free trial.
Large-Scale Renewables Poised for Continued Growth
Large-scale renewables like wind and solar continue to play a central role in the country's transition to an advanced energy economy. According to the U.S. Energy Information Administration, nearly 70% of new large-scale capacity additions in 2021 will come from renewables – including a record 15.4 GW of new solar. Bolstered by long-term declining cost trends and state policy goals to achieve 100% clean energy, renewables are well-positioned to scale quickly in the near-term.
Recent activity at public utility commissions reflects these trends. In March, Xcel Energy in Colorado filed its inaugural Clean Energy Plan to support a goal of an 80% reduction in power sector greenhouse gas (GHG) emissions by 2030. Xcel's preferred plan supports the buildout of over 5 GW of new large-scale renewables and storage. In May, Indiana regulators approved Northern Indiana Public Service Co.'s (NIPSCO) request for 900 MW of new solar capacity to support its 2018 Integrated Resource Plan. In the Southwest, Arizona's Energy Rules proceeding has been a regulatory rollercoaster, but the Arizona Corporation Commission has set the stage for a vote on new rules in the fall that would require regulated utilities to achieve 100% clean energy by 2070 with interim targets. Other states such as New York, North Carolina, Michigan, Nevada, California, and Washington all have active dockets considering the procurement of new renewable resources.
Distributed Energy Resources Unlock More Value at the Grid Edge
Distributed energy resources (DERs), such as rooftop solar, storage, energy efficiency, EVs, and demand response, continued to make waves in the first half of 2021. Analysis by Wood Mackenzie estimates cumulative DER capacity is expected to reach 387 GW nationally by 2025 – presenting enormous potential to complement large-scale resources, provide valuable grid services, and enhance customer resilience to grid disruptions. In comparison, combined capacity from coal and nuclear plants in the U.S. is approximately 330 GW.
Regulators across the country are looking to see how DERs can provide greater grid and customer benefits, and nowhere is the discussion more active than in California. In February, the California Public Utilities Commission approved a new pilot for utilities to procure and compensate behind-the-meter DERs that avoid or defer distribution system upgrades while reducing customer costs. The Commission also took bold action to revamp the state's energy efficiency rules by adopting a new "total systems benefit" metric that more accurately captures the grid benefits efficiency provides, continued to oversee a hotly contested process to update the state's net energy metering rules, and recently took steps to open a new major proceeding that will prepare the grid for a "high distributed energy resource future."
Other states are also evaluating ways to bring DER value to the grid. In New York, the Commission recently issued new requirements for credit banking under its Community Distributed Generation program and is in the process of redesigning standby rates that could have significant impacts on non-NEM DERs, stand-alone storage, and EV charging. Massachusetts regulators also took a critical step to integrate DER into grid planning processes by requiring utilities to file system planning analysis proposals that could potentially address challenges associated with DER interconnection. Colorado is also getting closer to finalizing first-time distribution system planning rules that will show where DERs can be efficiently deployed on the grid and create new opportunities to leverage DERs in a manner that defers traditional grid upgrades. Maryland, Michigan, Minnesota, Arizona, Oregon, and Hawaii are also considering how DERs can support grid planning efforts.
Transportation Electrification Investments Continue to Surge
With EV sales rebounding sharply as economic recovery continues, automakers making headlines with new model announcements, and a Biden administration set on making America's EV industry competitive on a global scale, transportation electrification continues to be a hot topic among utility regulators. As stewards of the electric grid, utilities are in a unique position to support the deployment of EV charging infrastructure and manage EV charging demand in ways that enhance the flexibility of the grid. According to Atlas Public Policy, public utility commissions have approved over $2.6 billion in utility EV programs to date.
In Michigan, DTE recently received the green light to implement phase two of its Electric Vehicle Charging Forward program, providing new opportunities for customer education and outreach, fleet advisory services, and EV charging station deployments. Minnesota regulators also recently approved utilities' 2020 Transportation Electrification Plans and set new requirements for future plans to better integrate EV demand onto the grid. California continued to set the bar by approving new rates that support the economic operation of fast chargers, authorizing a new program to deploy over 2,000 new EV chargers at apartments and workplaces, and laying the groundwork for $240 million in fast-tracked investments to support charging needs of apartment dwellers, low-income residents, and other priority segments. In Maine, Central Maine Power sought to push the boundaries of transportation electrification offshore by proposing a pilot to support the electrification of ferries in the region. Other states, including New York, Maryland, Florida, Colorado, and Arizona, have had active EV dockets this year.
Building Electrification Gains Ground as Natural Gas Faces Scrutiny
There has been much debate over the last several years around building decarbonization and the future of the natural gas system, and in 2021, that debate has been heating up. Similar to EVs, building electrification technologies – like heat pumps – can provide significant grid and consumer benefits while contributing to state climate policy goals. Although these technologies are making inroads through supportive state and local policies and accelerating consumer adoption, building decarbonization – especially eliminating the need for natural gas in space heating – has a long way to go.
So far in 2021, Colorado regulators continued their investigatory proceeding on decarbonization of the natural gas system as they prepare for utilities to file new beneficial electrification programs in accordance with legislation passed this session. The Public Utilities Commission of Nevada is poised to follow suit with the opening of a new proceeding on long-term gas planning in the state. After California's landmark 2020 decision to establish $200 million in utility beneficial electrification programs, the Commission continues to wind through a proceeding guiding future policies and rules for gas planning that is not expected to conclude until 2022. The Massachusetts, Connecticut, Illinois, Wisconsin, and Oregon commissions are also actively overseeing proceedings that would have planning implications for building electrification technologies.
Wholesale Market Expansion and Reform Under Consideration
Well-designed wholesale markets can be a powerful driver for advanced energy development and procurement. As states look to reduce utility customer costs, enhance system reliability, and meet policy goals, regional transmission organizations and independent system operators (RTO/ISOs) serve as a critical tool for enabling the efficient use of transmission and generation resources.
In the Southeast, several major utilities made waves earlier this year by submitting an application to FERC for a new Southeast Energy Exchange Market (SEEM). SEEM proposes to enable trading of wholesale power among utilities on 15-minute intervals; however, as explained further in another AEE blog post, the concept falls short of a full RTO/ISO, lacks mechanisms to ensure market transparency, and leaves potential utility customer savings on the table. In the West, where there is similarly no region-wide market, interest is growing, as evidenced by recent legislation in several states (here and here) as well as ongoing investigations in Colorado and Nevada. Relatedly, FERC filed a supplement to a Notice of Proposed Rulemaking in April that would lower utility incentives for joining RTO/ISOs at a time when RTO/ISO expansion is being explored. States in ISO-New England and PJM have also continued discussions around Minimum Offer Price Rule (MOPR) reform, with stakeholders agreeing on a proposal in PJM and discussions still ongoing in ISO-NE; more comprehensive reform discussions are expected to take place in both markets on a longer timeframe. Last but not least, FERC and NARUC have teamed up to establish a joint federal-state task force on electric transmission to optimize benefits of new transmission and fairly allocate costs – critical issues for sharing large-scale renewable resources over wide areas of the country.
Extreme Weather Forces Regulatory Action
Extreme weather, exacerbated by climate change, has continued to pose threats to grid safety and reliability nationwide. Two prime examples this year have come from a major winter storm in Texas and extreme heat in California. Both events underscore the need for flexible, resilient supply- and demand-side resources that protect customers from prolonged grid disruptions.
Amid the regulatory upheaval that took place at the Public Utility Commission of Texas after the winter outages, regulators opened a series of dockets on a wide range of issues stemming from the crisis, including a service disconnection moratorium, weatherization standards, indexed retail electricity plans, and ERCOT's scarcity pricing mechanisms. Moreover, the Texas legislature passed 25 bills this past session that require Commission action on an even wider array of issues to shore up system reliability, so expect Commission rulemakings to significantly ramp up through the rest of the year.
In the wake of last summer's region-wide heat storm, California regulators opened up a proceeding in the fall of 2020 to address near-term reliability issues ahead of summer 2021. This expedited proceeding yielded supply- and demand-side decisions that seek to procure incremental capacity from existing generation resources, refine existing critical peak pricing and demand response programs, and boost media campaign efforts to reduce customer demand. These actions are already having an impact this year: California's grid operator noted that new demand response and battery storage resources played an important role in keeping the lights on during a mid-June heat wave. FERC and states like New York, Arkansas, and Colorado, and Oregon are also grappling with dockets concerning system resilience and impacts of grid disruptions caused by extreme weather.
Quest for Zero-Carbon Firm Resources Ramps Up
With an increasing number of states aiming for 100% clean energy and moving toward that goal by adding variable renewables, regulators are beginning to search for solutions that ensure zero-carbon energy is available around the clock – even when the sun isn't shining or the wind isn't blowing. While battery storage can be used to meet short-term system capacity needs and as part of hybrid generation projects that provide a certain amount of dispatchable power, there is growing interest in zero-carbon technologies that can provide capacity and other grid services for extended periods of time.
California, driven by policy and reliability needs, has been particularly active in its search for zero-carbon firm resources. The Commission issued a groundbreaking decision in June to procure 11.5 GW of new resources by 2026 in its integrated resource planning proceeding, of which at least 1 GW must come from long-duration energy storage that can provide at least eight hours of capacity and at least 1 GW from "clean firm" resources like geothermal power. In New York, grid operators are beginning to map out what a 100% clean grid would look like by modeling the use of renewable natural gas and hydrogen from electrolysis at existing gas-fired plants. Evergy recently released its latest integrated resource plan in Missouri, which outlines its ambition to procure nearly 4.5 GW of renewable and "zero-carbon firm, dispatchable" resources by 2040. Regulators in Massachusetts, Colorado, and Nevada are also engaging in proceedings that consider demonstrating, procuring, or further studying zero-carbon firm resources.
COVID Restrictions Ease Up, but Costs are Looming
At the time AEE's last top 10 regulatory trends post was published, half of U.S. states had some form of disconnection moratorium in place and many had opened dockets to address near-term challenges for utilities and their customers. Widespread vaccinations and the passage of the American Rescue Plan are beginning to provide much needed relief, but states continue to grapple with pandemic-related issues – including customer arrearages and utility cost recovery.
The situation is particularly acute in New York, where Commission staff estimate customer arrearages across regulated utilities have increased to approximately $2 billion as regulators consider how to absorb those costs. Other states, like Massachusetts, have continued to extend disconnection moratoria into the summer while others, like Texas and Wisconsin, have ended their moratoria but continue to require regular reporting to Commissions on utility finances and arrearage management. Given the length and severity of the pandemic's financial impact on customers and utilities, 2021 may see a ramp up in rate case activity as utilities seek to recover costs.
Inroads Made on Data Access
As the grid becomes smarter and more distributed, greater access to data can help consumers make informed energy decisions and give third-party companies the chance to unlock more value from customer-sited DERs. The first half of 2021 demonstrated Commissions' continued interest in making that data more available.
In D.C., regulators recently issued a decision that requires Pepco and Washington Gas to issue Home Energy Reports (HERs) – similar to existing reports in Maryland and other states – to customers that display detailed usage data as well as associated greenhouse gas information. Stakeholders recognized that HERs can be a powerful tool for motivating behavioral energy efficiency and creating actionable energy insights for customers. New York also took a big step by requiring the creation of an Integrated Energy Data Resource (IEDR), which is intended to serve as a one-stop shop for energy-related data in the state.. Critically, the IEDR will also draw relationships between datasets to better identify and accelerate energy service opportunities for customers. Colorado is also considering data access issues in a new proceeding that may amend Xcel's substantial Advanced Grid Intelligence and Security initiative in a manner that enables third party energy management companies to access customer energy data. Other states, like Maryland, Minnesota, and California, also have active dockets on data access issues.
Performance-Based Ratemaking Seeks to Shape Utility Behavior
Performance-based ratemaking (PBR) is not a new concept for utility regulators, but it is gaining traction among Commissions that want to enhance traditional cost-of-service regulation with a regulatory approach that encourages utility behavior that drives customer and grid benefit and helps achieve state policy goals more cost-effectively.
Nevada continues to make progress toward introducing PBR into the regulatory paradigm. Recently, the Commission proposed three new conceptual performance incentive mechanisms (PIMs) to encourage peak load reduction, transportation electrification, and greenhouse gas emissions reductions from utilities with the intent of issuing draft guidance on utility alternative ratemaking plans later this year. Hawaii regulators also issued an order in May that approved a final performance mechanism portfolio that will be implemented under a new PBR framework that was adopted in December 2020, which includes three PIMs focused on DER interconnection, low-income energy efficiency programs, and utilization of advanced metering infrastructure. Similarly in Minnesota, the Commission is considering feedback on a range of performance metrics and incentives tied to utilities' forthcoming load flexibility pilots. Other states like Massachusetts, Connecticut, and Colorado are actively considering the role of PBR in regulating specific utility operations.