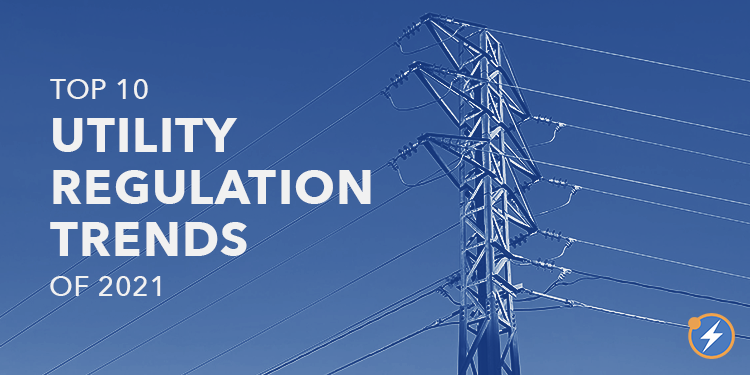 December is a time of reflection on the year that has passed and the year that lies ahead. This year, there was plenty to reflect on as states began to re-emerge from the COVID pandemic, public utilities commissions (PUCs) oversaw high-profile proceedings on the energy transition, and new federal resources and perspectives shaped the outlook for advanced energy. Earlier this year, we published a mid-year review of the top utility regulatory developments from around the country; the list below rounds out the standout trends for the year as it winds down. If these trends are any indication of what's to come, 2022 promises to be another big year for advanced energy.
Note: some links in this post reference PUC filings and other documents in AEE's software platform, PowerSuite. Click here and sign up for a free trial.
1. On Grid Reliability, Texas and California Search for Answers
In our previous post, we noted increased regulator focus on grid reliability in the wake of extreme weather events driven by climate change. Nowhere was that more true than Texas, reeling from a winter storm that paralyzed much of the state, and California, beset by wildfires and preventative power outages. That issue has continued to dominate as regulators and market operators in these two states attempted to shore up their systems to prevent widespread outages.
Winter Storm Uri and the subsequent legislative session in the Lone Star State brought a wave of new reliability-oriented proceedings to the Public Utility Commission of Texas. The centerpiece of these dockets focused on redesigning ERCOT's wholesale market, which currently compensates resources on an energy-only basis. The Commission is currently seeking stakeholder feedback on a suite of potential market reforms, which include a new resource obligation that would require electricity providers in the state to demonstrate they have sufficient capacity to meet their customers' needs during peak periods – a significant departure from ERCOT's current market structure. This fall, the Commission also finalized preliminary weatherization standards for electric generators, considered modifications to its scarcity pricing mechanism (also known as the High System-Wide Offer Cap), and opened a new proceeding to consider new utility non-residential load management programs that would bolster near-term grid reliability.
In response to Governor Newsom's July emergency proclamation on near-term grid reliability, the California Public Utilities Commission expanded the scope of its existing emergency reliability proceeding to further increase supply and reduce demand in the summers of 2022 and 2023. In early December, the Commission issued a sweeping decision that would boost incentives for and expand participation in a new voluntary demand response program, streamline processes and increase funding for existing demand response programs, introduce a new smart thermostat incentive, and expand the state's Flex Alert media campaign, among other proposals. The Commission also released concurrent decisions for novel performance-based energy efficiency programs and the procurement of new storage-based microgrid projects. Finally, the Commission recently opened a new proceeding to consider modifications to the state's resource adequacy (RA) framework, which may create additional opportunities for distributed energy resources (DERs) to receive compensation for the reliability services they provide. Michigan, Colorado, and Minnesota also opened dockets specifically to address extreme weather and grid reliability issues.
2. Equity Becomes a Regulatory Focus
As the country continues to emerge from the COVID-19 pandemic and grapple with ongoing economic inequality, utility regulators find themselves driven to take deliberate steps to incorporate equity into decision-making and utility oversight.
In some cases, this focus on equity has stemmed from legislative directives. A bill passed this year in Maine requires its Public Utilities Commission to explicitly consider mitigating undue energy burdens on environmental justice communities. The Climate and Equitable Jobs Act (CEJA) in Illinois directs the Illinois Commerce Commission to study the potential for developing low-income customer rates while overseeing a broad expansion of utilities' low-income energy efficiency programs. Colorado and Massachusetts similarly passed bills this year that require their respective Commissions to formally consider equity in decision-making processes and achievement of state decarbonization goals. In other cases, regulators acted on their own to incorporate equity into regulatory outcomes. Hawaii regulators recently approved a performance incentive mechanism for utilities to expand low-to-moderate income customer participation in energy efficiency programs. The Connecticut Public Utility Regulatory Authority also continued to make progress on its Framework for an Equitable and Modern Grid, embedding strengthened equity provisions into several customer-facing electric vehicle (EV) and storage programs.
3. Net Energy Metering and What Comes Next
Net energy metering (NEM) has been a foundational policy for developing distributed solar and other DER markets across the country by compensating customers at the retail rate for excess energy they export back to the grid. NEM, however, faces pressure as distributed solar costs continue to decline and the value of solar evolves with a changing resource mix.
Nowhere has this pressure been more acute than in California, which last year launched a proceeding to consider how the state's large utilities should compensate customers for distributed generation under a new NEM 3.0 framework. On one hand, California recognizes that customer-sited solar plays a key role in meeting the state's bold clean energy targets and that clear, long-term policy is needed to keep the market growing. On the other hand, the California PUC has also identified equity-driven concerns with the state's current NEM 2.0 framework, with cost shifts potentially increasing bills for non-NEM customers and challenging the state's electrification goals. With a final decision expected in the coming weeks, all eyes will be on the Golden State as it attempts to create a sustainable NEM model for a more mature distributed solar market. In August, New York regulators also took a step forward by approving large utilities' NEM tariff revisions required by a previous Commission order that introduced a Customer Benefit Contribution charge for NEM customers. This charge will support low-income and clean energy programs in the state. Commissions also considered issues surrounding virtual NEM, which facilitates community solar development: the Public Utilities Regulatory Authority in Connecticut recently opened a proceeding to evaluate and potentially modify its Virtual Net Metering program while Minnesota regulators are actively considering changes to strengthen tenant protections in Xcel Energy's Community Solar Garden Program. Commissions in New Jersey, South Carolina, and Arkansas are also actively working through NEM-related topics.
4. The Future of the Natural Gas Begins to Take Shape
As states press to achieve economy-wide decarbonization targets and related energy policy goals, the question of how the natural gas system fits into a clean energy future arises. Regulators have continued to make steady progress examining how gas system planning could align with broader state objectives.
Bolstered by landmark Clean Heat Standard legislation, which requires gas distribution utilities to cost-effectively decarbonize their operations 22% by 2030 via a suite of clean heat resources, Colorado regulators have opened up an investigatory docket on short- and long-term gas system planning before utilities submit their inaugural Clean Heat Plan proposals to the Commission in 2023. Elsewhere in the West, Nevada also recently initiated a proceeding to create an inventory of natural gas use in the state, assess the impact of natural gas system decarbonization on the electricity system, and examine decarbonization costs and mitigation strategies. The Michigan Public Service Commission opened a docket to consider a Consumers Energy proposal to develop a voluntary carbon offset program for its natural gas operations. National Grid in New York recently proposed a landmark $100 million investment in a combination of gas efficiency, electrification, and demand response programs designed to mitigate the need for new gas infrastructure upgrades. California regulators issued a decision to expand capacity at the controversial Aliso Canyon natural gas storage facility to support near-term gas system reliability despite calls to reduce the state's reliance on gas. At the same time, California recently proposed a potentially transformational policy to eliminate subsidies for new hookups to the state's gas distribution system in a bid to further encourage building decarbonization through electrification.
5. Transportation Electrification Investments Leap with EV Growth
Electric vehicle (EV) sales have surged as the country recovers from the pandemic: nearly 300,000 vehicles were sold in the first half of the year, a 140% increase over the same period last year. Five percent of all light-duty vehicles sold in the U.S. in Q3 of 2021 had a plug. The recently passed bipartisan infrastructure package also provides up to $7.5 billion in federal support for EV charging infrastructure deployment and billions more for electric school and transit buses. In expectation of continued growth, regulators have continued to review and approve new utility investments to facilitate transportation electrification (TE) in a manner that meets grid and customer needs (see Figure 1).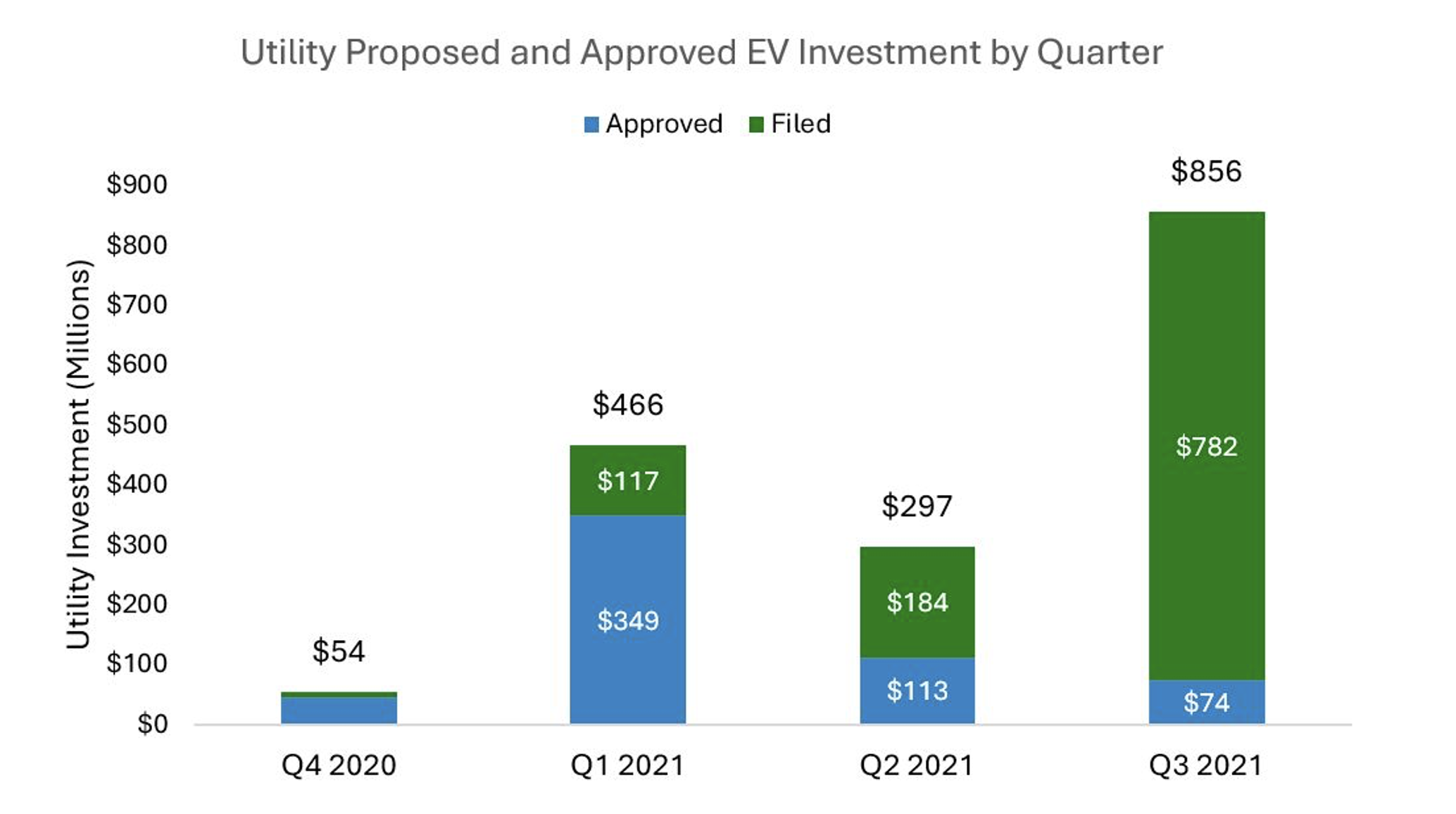 Figure 1 Quarterly Utility Transportation Electrification Investments: Approved and Proposed (Source: Atlas EV Hub)
Some of the largest utility TE proposals this year came from Massachusetts, including National Grid's Phase III EV Market Development Program. The $278 million, four-year initiative would provide boosted offerings for public and workplace charging, a new residential charging offering, a fleet electrification program, and increased incentives for the utility's off-peak charging program. Eversource also filed for approval of a new $193 million portfolio of TE programs similar to National Grid's. In the Sunshine State, Florida Power & Light recently proposed a $205 million program for utility-owned Level 2 and fast charging stations across its service area. Elsewhere, Duke Energy petitioned the Indiana Utility Regulatory Commission for approval of a two-year Electric Transportation Program, which includes support for local school and transit bus charger deployment. NV Energy in Nevada also submitted and received approval for a $100 million TE program in accordance with recently passed legislation designed to boost the state's economic recovery efforts and support its clean energy goals; the utility pledges to invest approximately half of program funds to benefit historically underserved communities. Finally, regulators in New Mexico approved Southwestern Public Services' Transportation Electrification Plan, a three-year initiative offering a suite of residential, commercial, and fleet EV charging incentives. While the bulk of utility TE investments remain concentrated in states like California and New York, trends in 2021 portend greater geographic diversity in future utility proposals, especially as EV sales grow in more parts of the country.
6. Distribution System Planning Evolves
As regulators consider new distribution system investments and seek to get the most out of the influx of DERs coming onto the grid, distribution system planning has become an area of focus for several states. Despite early challenges with non-wires alternatives (NWAs), Commissions see increased opportunity to leverage DERs strategically to support cost-effective distribution system investments.
The Colorado Public Utilities Commission recently finalized the state's inaugural distribution system planning rules, culminating a multi-year process that promises to create greater opportunities for DERs in the state. Utilities will be required to submit detailed distribution system forecasts, create more granular hosting capacity analyses, develop grid needs assessments, and consider non-wires alternatives in their forthcoming Distribution System Plan filings. In Michigan, utilities filed their five-year distribution system plans this summer, proposing new investments, pilots, and processes to better integrate DER on the distribution system. NV Energy in Nevada also recently filed an updated distribution resource plan that includes updated distribution system forecasts and hosting capacity analyses as well as potential NWAs that could avoid or defer capital distribution upgrades. Maryland and California similarly opened new proceedings to address distribution system planning issues, while states like Oregon, New York, Connecticut, and Arizona oversaw existing proceedings that touched on related issues.
7. Performance-Based Ratemaking Gets a Legislative Boost
Performance-based ratemaking (PBR) is not a new concept for utility regulators, but it continues to gain traction among commissions that want to enhance traditional cost-of-service regulation with a regulatory approach that aligns utility behavior with cost-effective achievement of grid benefits and state policy goals.
Illinois made big strides this year with the passage of the Climate and Equitable Jobs Act (CEJA): a comprehensive energy bill that includes significant reforms to utility planning processes and business models. Specifically, CEJA directed the Commission to establish performance-based rates and initiate integrated grid planning processes. The Commission is now actively convening stakeholder workshops, writing staff reports, and preparing for utilities to file their PBR plans early next year. In addition, the North Carolina Legislature recently passed a bill requiring the Commission to adopt rules relating to the implementation of PBR with multi-year rate plans by February 2022; the Commission is currently seeking stakeholder feedback on how they should address the procedures and requirements for a utility when requesting approval of a PBR application, the criteria for Commission evaluation of a PBR application, and more. Nevada continues to move toward enabling PBR under its regulatory paradigm, and is seeking stakeholder feedback on Alternative Ratemaking Draft Rules. Last, Wisconsin is making progress on implementing PBR: the Commission has opened an investigatory docket to develop a roadmap for achieving zero carbon electricity, including an upcoming workshop on PBR. Other states like Massachusetts, Connecticut, and Hawaii are actively considering the role of PBR and in some cases implementing it to achieve regulatory outcomes.
8. FERC Ponders Regional Market Expansions
While #HotFERCSummer has come to a close, the Federal Energy Regulatory Commission (FERC) has kept busy addressing a range of issues central to the energy transition. States have also continued to play increasingly critical roles in shaping discussions around regional energy issues and the development of wholesale markets to support achievement of state energy policy goals, enhance grid reliability, and reduce energy costs for customers.
One consequential development FERC oversaw ties back to the Southeast Energy Exchange Market (SEEM) plan that several major southern utilities filed with the Commission earlier this year. Due to a 2-2 deadlock between Commissioners in October, the SEEM proposal went into effect without a formal blessing by FERC and despite concerns from several intervening parties; FERC also approved SEEM's transmission rules in November, but parties are requesting rehearing on the grounds that the approved tariffs violate longstanding open access requirements. Now, FERC has a full bench. The agency also made news when it established the Office of Public Participation earlier this year, which is designed to facilitate greater public engagement in FERC proceedings and better reflect the public interest in decision making. Finally, FERC recently issued an Advance Notice of Proposed Rulemaking (ANOPR) on transmission planning, cost allocation, and generator interconnection issues that could have wide-reaching implications for the deployment of clean energy resources and the wholesale markets they operate in.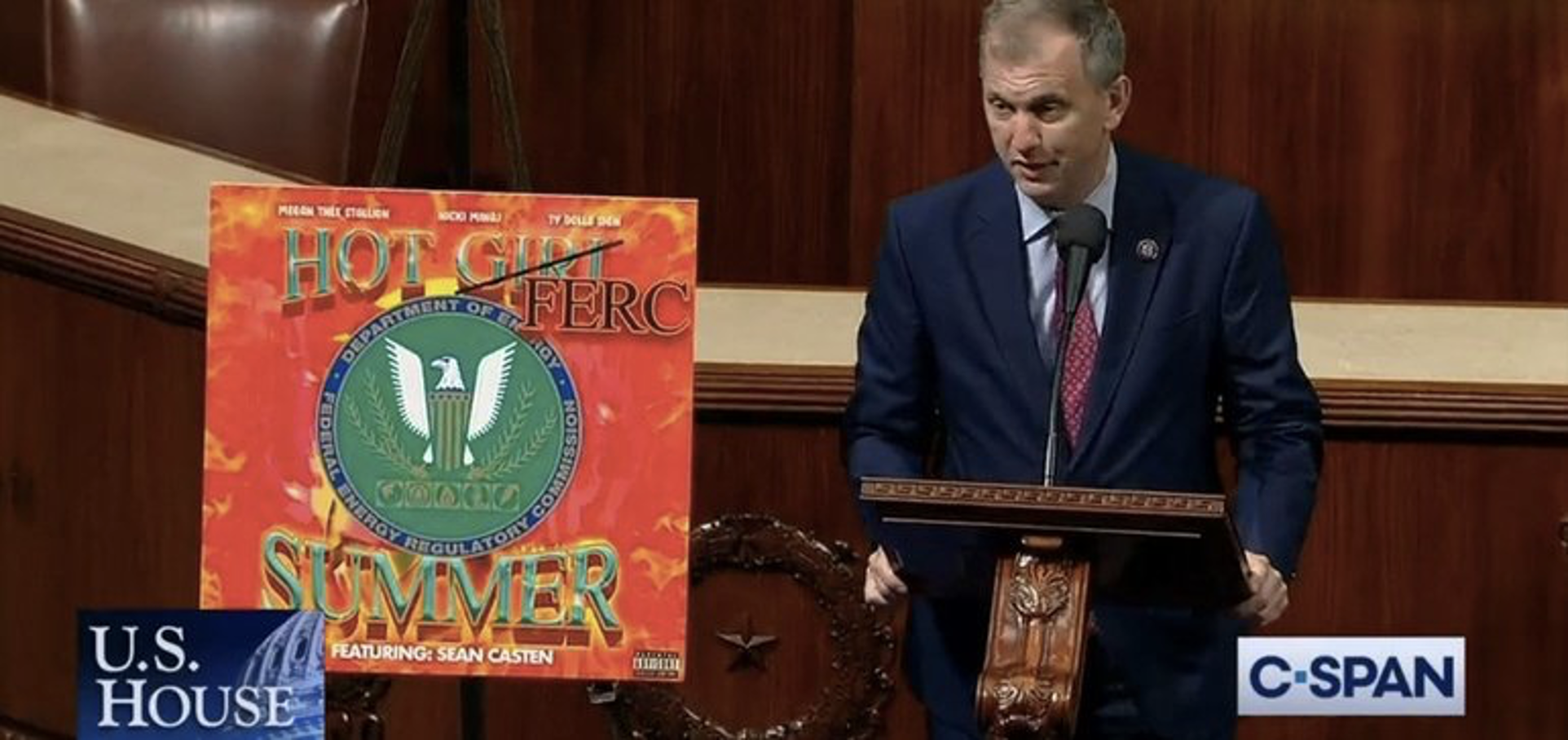 Figure 2 Representative Casten (D-Ill.) Unveiling Hot FERC Summer in Congress (Source: C-SPAN)
Western states, many of which currently do not participate in RTOs, also continued to consider issues related to RTO participation. Colorado regulators commissioned a study showing significant net benefits accruing to the state from participation in an RTO and more recently determined that well-designed RTOs are in the public interest, a major step forward toward a regional market structure that works for the West. Arizona, Nevada, and Oregon also established dockets or forums for stakeholder feedback on wholesale market issues as the states contemplate the benefits of more integrated markets in the West.
9. Storage Surges
Considered the swiss army knife of the grid, energy storage has become a critical resource for utilities and grid planners as states target 100% clean energy. With national storage deployments in 2021 expected to jump nearly four-fold relative to 2020 (see Figure 3), Commissions are poised to play a critical role in the growth of the technology.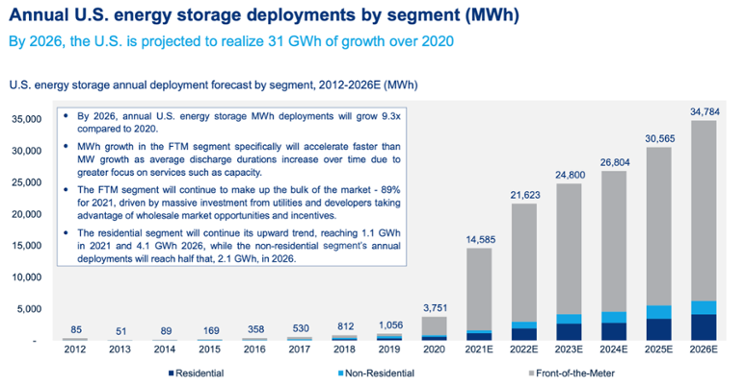 Figure 3 Energy Storage Deployment Trends (Source: Wood Mackenzie Power & Renewables)
Storage has been essential to California's energy transition: the state saw over 580 MWh of storage installed in Q2 alone, and hit a milestone when battery storage resources collectively provided over 1 GW of capacity in July – up from just 126 MW the previous summer. The state also recently ordered the procurement of 1 GW of long-duration energy storage capable of performing for at least eight hours at a time by 2026. Connecticut also established a new nine-year statewide energy storage program in July, with the goal of deploying 580 MW of storage by 2030. The program features a declining block incentive for residential customers and an adder for low-income households to help achieve a program goal of 40% deployment in low-income communities. In August, the Michigan Public Service Commission concluded a proceeding on FERC Order 841 (which opened regional wholesale markets to energy storage) with a request that regulated utilities propose energy storage pilots that encourage customers to shift load and further integrate clean energy resources. Vermont regulators opened a proceeding in September to develop rules governing the installation and operation of storage resources in the state. In New York, the Public Service Commission recently issued a precedential order affirming that utility-owned storage resources can participate in both wholesale and retail markets in the state. Other states like Hawaii, Massachusetts, and New Mexico also had open proceedings to consider the procurement of energy storage resources.
10. Data-driven decision-making tackles tough grid challenges
With the spread of advanced metering infrastructure and proliferation of grid-connected gadgets, granular energy data has become more accessible than ever for utilities, their customers, and their regulators. Commissions have demonstrated a keen interest in leveraging these data to shore up grid reliability, improve customer programs, and give consumers more control over their energy use.
At the bulk power level, the Public Utility Commission of Texas recently opened a proceeding to explore the potential to deploy dynamic line rating technology, which would provide ERCOT with better real-time data on available transmission capacity. On the grid edge, California issued a proposal for a two-year, $150 million Market Access Program (MAP) that would pay implementers and aggregators for customer demand reductions achieved during peak and net peak periods. By relying on energy consumption data measured at the customer meter, the MAP would avoid paying customers for estimated savings and simply pay for savings that were directly recorded at the customer meter based on the real-time value of avoided costs to the grid – an innovative approach that evades more time-intensive cost-effectiveness reviews (see Figure 4). Utilities in New York made continued progress on the implementation of the state's Integrated Energy Data Resource by submitting Data Access Implementation Plans and Customer Consent Plans. Commissions in states like New Hampshire, the District of Columbia, and Minnesota also had active proceedings on customer data issues.

Figure 4 Illustrative Hourly Value of Avoided Energy Costs in California (Source: Marin Clean Energy)
Keep up to date on all the regulatory action with AEE's PowerSuite. Click below to start a free trial: