Navigating the arcane world of Regional Transmission Organizations (RTOs) and Independent System Operators (ISOs) is nearly impossible – yet critically important for companies that do business in wholesale markets, or hope to.
RTOs/ISOs largely develop the rules for participating in regional wholesale electricity markets (energy, capacity, and ancillary services). These rules have a massive impact by expanding, complicating or eliminating market barriers for advanced energy technology in seven regions that serve a total of over 200 million electricity customers.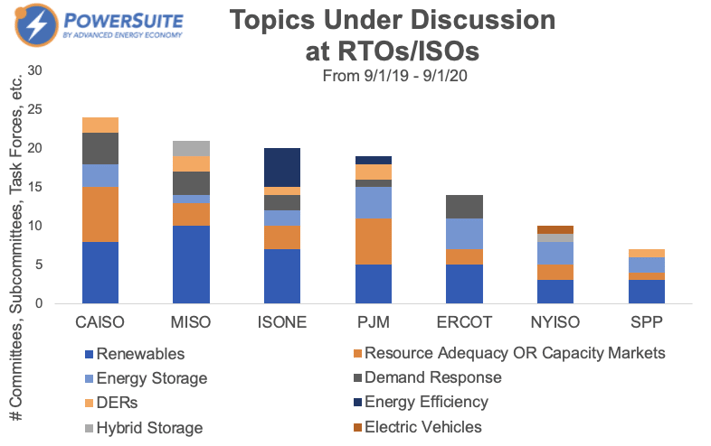 How decision are made at RTOs
Changes to market rules are researched, discussed and debated through a complex committee process (see lead image). Each RTO has dozens of committees, subcommittees, task forces, etc. that generate reports, agendas, minutes and other documents through engagement with a range of stakeholders on dozens of topics. The key outcome, from the committee process, are filings submitted to FERC to propose changes to market rules and regulations – with FERC generally giving deference to proposals that emerge from the RTO committee process – or changes that can be introduced directly by a given RTO. If someone wants to understand which active discussions will soon turn into decisions affecting market participants, it is critical to monitor RTO activities.
Flying blind with 300+ committees to monitor
With seven U.S. based RTOs (CAISO, ERCOT, ISO-NE, MISO, NYISO, PJM & SPP) there are over 300 committees, it is cumbersome at best to keep track of developments at committees you already know to follow (sites offer various forms of email newsletters for notifications) and nearly impossible to stay on top of new committees or be alerted when an important discussion starts within a committee you didn't know was coming.
Some companies hire one or two full-time staff to manually stay on top of one or a handful of RTOs on just a few issues but many businesses don't have the resources even to do that. Bottom line – many companies whose business prospects are in the balance find themselves flying blind.
Staying on top of RTOs with a click
PowerSuite has covered regulatory activity at FERC (dockets & filings) for years but now we have brought RTO committee activity, from all seven RTOs, to our platform. Starting today, you can discover and evaluate RTO committee activity on PowerSuite, just like legislation and public utility commission dockets, and shine a light on this business-critical regulatory blind-spot:
Track any committee, subcommittee, task force, etc. (300+) from every RTO
Stay on top of committee developments with automated notifications
Discover important committee activities with advanced search
Browse committees by key topics like Markets, Planning and Operations
Easily access the latest (and historical) RTO documents with a click
Learn more about how you can you can add RTOs to your current subscription.